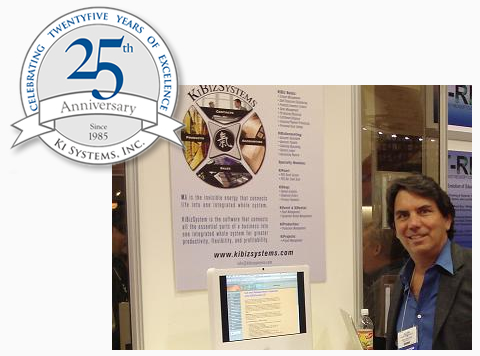 Ki Systems History
Ki Systems, Inc. was founded in 1985 by Allen Imbarrato, and is now celebrating it's 25th Anniversary of being in business. It's first product line included business seminars called "Winning at Work". These seminars were designed to empower people to create a clear vision of their work life and how to move through the obstacles to realize it.

A common obstacle that most people needed help with was how to use the computer to accomplish their goals. So, computer training courses were added, along with computer consulting services.

As we worked with both small and medium size businesses our consulting led to a more direct relationship with our customers to provide customized computer-oriented business solutions. These solutions addressed business needs such as: estimate and quoting systems for faster, more effective sales, contact management to keep track of key business relationships and activities, and planning and scheduling module for better coordinated production process.

After several years of developing hundreds of custom solutions with many different types of businesses from retail and wholesale sales, to entertainment, to biotechnology, the KiBiz System was created. This system can run your entire business, as it brings together all major business processes into one integrated solution.

KiBiz grew rapidly, as clients from North America, Europe, Australia and Asia used it to run their businesses. Over the next 10 years, KiBiz also grew as a product as new modules were added for Accounting, Point of Sale, Ecommerce, Equipment Rentals, Event Management, Production Management, Project Management, and Connectivity using EDI and XML.

In 2005 and 2006 Ki Systems was a featured exhibitor in the FileMaker Pavilion at MacWorld. (see picture above)

In 2008, KiBiz 5.0 was released after 2 years of development. Many new features were added to increase its capability to serve even more businesses. These features included multi-profit centers, multiple warehouses, user dashboard, inventory control dashboard, sales automation, and a buyer's decision screen.

In 2009, KiBiz 5.5 was released that included KiBiz Mobile for the iPhone and the Web. In 2010, Ki Systems, Inc released their first iPhone app produced for a client.

Ki Systems became a FileMaker certified developer in 2005, and hires several more certified developers to serve our customers. Allen Imbarrato, has been a featured speaker on various FileMaker related topics at the FMDiSC ( FileMaker Developers in Southern California), and at the FileMaker BootCamp, an intensive week long educational program on FileMaker held each year in Los Angeles.

Ki Systems has been a member of the FileMaker Business Alliance for over 14 years and a member of the FileMaker SBA ( Solution Bundle Agreement) for 7 years. The SBA program is for FileMaker developers that offer products based on FileMaker and enables us to offer special pricing for FileMaker software to our customers.

Ki Systems background info