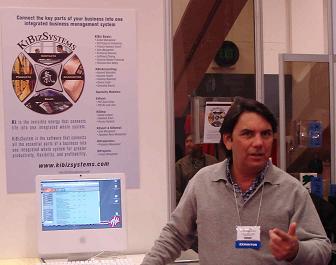 Ki Systems Mission
Ki Systems, Inc. creates customized business solutions that serve the needs of a wide variety of businesses.


Higher Performance through Database Automation
We are committed to finding ways to make your business run more effectively, with faster, better, more reliable business systems. We can strengthen your informational infrastructure to provide a more solid foundation from which your business can grow and prosper. We study your work flow and business processes to discover new ways to better serve your customers, interact with your vendors, and coordinate amongst your staff. The key to these relationships is how information is shared in a timely, focused and controlled manner. A multi-user database in which all information is accessible based on assigned privileges enables your staff to be better equipped to fulfill the requests of your customers, and communicate with your vendors what your business needs are.

Build Teamwork with Information Sharing
This pool of shared data fosters greater teamwork, as people can trust the information to be credible, current, and accurate. It reduces the reliance on gossip or rumor as the source of information, and cuts down on territorial withholding of information.

Empower Clients with Full Accessibility
Ki Systems is committed to empowering you to feel comfortable to tweak and improve your database as you feel the need. Therefore, we are willing to give owners full access to the programming code, scripts, field definitions, layouts, and value lists. We are interested in building a long term relationship where we can continue to be available to you to develop new features and modules as your business grows.
Overview on Product Development