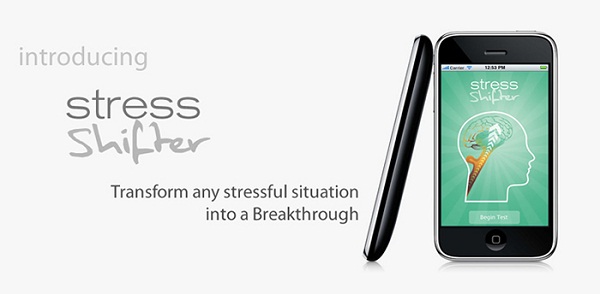 Stress Shifter
Stress Shifter- iPhone/iPad App to Reduce Stress


Stress Shifter is a revolutionary app that can genuinely help you shift from the subconscious stressful reactions of fighting, flighting and freezing to being calm, conscious, and centered. In order to permanently alter our stress responses we need to shift our thinking from being driven subconsciously to consciously.


This app is developed specifically to help users identify and move away – in a psychological sense – from the factors that cause their stress. Based on the proven Breakthrough Technology(TM) method of stress relief, Stress Shifter is not a mobile gimmick promising to instantly relieve stress. instead it gives users a scientifically sound basis through which to find out the root causes of their stress and provides them with a step-by-step process of how to most effectively deal with their issues in a positive and productive manner.

By activating the power of cognition rather than subconsciously sabotaging what we want, Stress Shifter offers a unique opportunity to transform stress and produce desired results. Stress Shifter and Stress Shifter Lite are currently available for download on the Apple ITunes App Store.
I was blown away with your findings. Your Stress Shifter app clearly defined my needs to re-think where my stress comes from and how to reduce / move forward with my life. I moved forward through the 1st exercise and quickly realized myself more relaxed. Thank you for creating a tool that will be of help to so many.
Once in a while a star app pops up, I think this might be the next heavyweight. Not convinced that this stuff is real, just check out their website. I am working through the first 2 steps and will definitely follow through. Thank you.
I found that running the stress shift exercises provided stress relief, by writing my desired outcome, and then stating the key challenge and how I can overcome it. Knowing that I have choices, and stating that clearly, was stress relieving, and also helps put focus on some of the tangible/external things I can do, as well as just being in the moment.