KiSwipe is the Best Solution for Secure Credit Card Processing
with FM Go 
Encrypted PCI Compliant CC Processing with KiSwipe and FM Go is as Easy as 123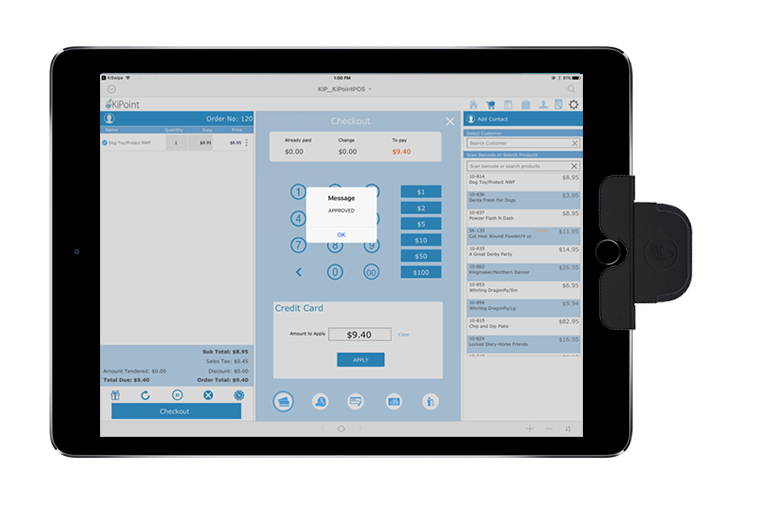 KiSwipe iOS app works with any FM Go App to do encrypted PCI compliant credit card transactions on the iPad and iPhone.
In order for credit card processing with FM Go to be PCI compliant it requires having an encrypted swiper, and an iOS app that can pass the credit card data directly to the merchant processor. This means that the credit card data cannot be stored inside a
FM Go application.

KiSwipe iOS does the job of a Plug-in on the iPad to Enable Secure Transactions with FM Go
Since, it is not possible to use any FileMaker plugins on the iPad, KiSwipe solves this problem to make it possible to do secure credit card processing with FM Go. Other common approaches such as
processing Credit card transactions using the web viewer, or a FileMaker Server plugin are not secure or PCI compliant.

Get your own Merchant Account to Offer More Payment Options to your FileMaker Solution
We also offer a highly competitive option to provide you with your own Merchant account. We are a Cayan Partner and can set your business up with a Cayan Merchant Account.  An advantage of having your own Cayan account is that it offers you the possibility of connecting Genius terminals and handheld devices to your desktop and mobile FileMaker solutions so that you can do chip cards for EMV, Apple Pay, and other NFC pay methods. Connect the Genius Handheld device to your iPad and iPhone via Bluetooth, or to the Desktop via Wifi to expand the payment options of your FileMaker solution.
"We had a Record Year for sales in 2014 and that our end of year inventory went off without a hitch. Neither of which would have been possible without the work, advice and assistance Ki Systems gave us."
David Line — Operations Manager, Interstate Books for Schools
For more information call 800-Win at Life (946-2854)